Waarom kiezen voor Greenkidzz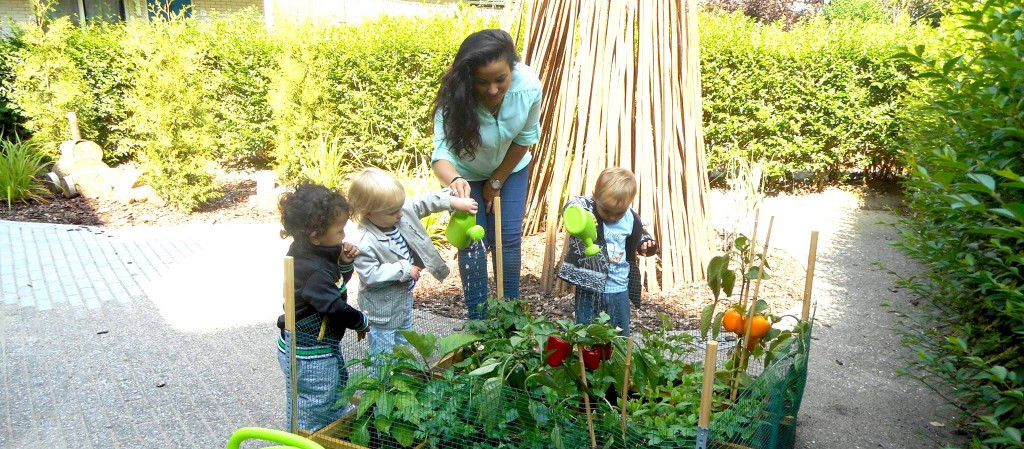 Een comfortabele tweede huis: rustig ingerichte vestigingen met zorgvuldig geselecteerde houten speelmaterialen en prachtige belevingstuinen.
Hele jaar door open, uitgezonderd van erkende feestdagen en twee studiedagen.
Veel ontwikkeling sturend speelmateriaal dat voornamelijk van hout is gemaakt.
Wekelijks (baby)yoga, muziekles, dans of theater gegeven door externe professionals.
Biologische, vegetarische warme maaltijden, fruit, zuivel en luiers.
Regelmatig uitstapjes naar Artis, kinderboerderij en speeltuin.
Kinderopvang Greenkidzz West is gevestigd naast stadsboerderij Zimmerhoeve.
Kleinschalig kinderdagverblijf met horizontale groepen.
De beste leidsters: liefdevol, zorgzaam en professioneel.
Ruime openingstijden van 07.30-18.30 uur.
De ontwikkeling van het kind staat centraal.
Een gunstig uurtarief dat all inclusief is.
Omgang met dier en natuur.
Veel binnen- en buitenruimte.
Buitenbedden voor baby's.
Natuurlijke belevingstuinen.
Een externe pedagoog in huis.
Flexibel ruilbeleid
Moestuin-activiteiten.
En nog veel meer…
Nieuwsgierig geworden? U bent altijd van harte welkom voor een rondleiding! Bel even voor een afspraak of stuur een mail naar info@greenkidzz.nl. Wij zorgen er dan voor dat de koffie klaar staat en dat we alle tijd voor u hebben!